Business Credit Cards in Canada
Find and compare best interest rates and features of Business credit cards for small or corporate company with credit limit $50 000,00 in banks of Canada
#
Bank and Credit Card
Purchase Rate, %
Credit Card Expenses, $
Credit Card Type
VIP credit cards, Best no fee credit cards, Lowest interest credit cards
24,99 %
variable cash rate
0,00 %
cash withdrawal fee
VIP credit cards, Best no fee credit cards, Lowest interest credit cards
VIP credit cards, Secured credit cards, Best cash back credit cards, Lowest interest credit cards
10,95 %
variable cash rate
$ 60,00, annual
periodic fee
0,00 %
cash withdrawal fee
VIP credit cards, Secured credit cards, Best cash back credit cards, Lowest interest credit cards
23,99 %
variable cash rate
3,00 %
cash withdrawal fee
Best cash back credit cards, Best no fee credit cards, Best rewards credit cards
23,99 %
variable cash rate
3,00 %
cash withdrawal fee
Best cash back credit cards, Best no fee credit cards, Best rewards credit cards
VIP credit cards, Best no fee credit cards, Best rewards credit cards
24,99 %
variable cash rate
0,00 %
cash withdrawal fee
VIP credit cards, Best no fee credit cards, Best rewards credit cards
Best rewards credit cards
22,99 %
variable cash rate
$ 120,00, annual
periodic fee
0,00 %
cash withdrawal fee
Best rewards credit cards
Best cash back credit cards, Best no fee credit cards
21,90 %
variable cash rate
3,50 %
cash withdrawal fee
Best cash back credit cards, Best no fee credit cards
Best no fee credit cards, Best rewards credit cards, Best travel credit card
22,99 %
variable cash rate
0,00 %
cash withdrawal fee
Best no fee credit cards, Best rewards credit cards, Best travel credit card
Best rewards credit cards, Best travel credit card
22,99 %
variable cash rate
$ 120,00, annual
periodic fee
0,00 %
cash withdrawal fee
Best rewards credit cards, Best travel credit card
Best cash back credit cards, Best no fee credit cards
22,99 %
variable cash rate
0,00 %
cash withdrawal fee
Best cash back credit cards, Best no fee credit cards
Which bank in Canada is more profitable to issue a business credit card?
If you want to take a credit card with an extended grace period and favorable loan conditions, we suggest you to get acquainted with the current rating of business credit cards of Canadian banks. On this page we have collected business credit cards from all banks. To find the most suitable card with credit facilities, you need to use a special filter. Specify the amount of the loan, type and class of the card, the city. After these actions, you will see the credit rating that meets your requirements. The main indicator of the rating is the real lending rate, that is, the nominal rate, adjusted for one-time and monthly commission, if any. Moreover, for each business credit card we calculated the amount of overpayment and monthly payment. Clicking on the name of the card, you can see other important tariffs: credit limit, grace period, purchase rate, cash rate, one-time fees etc. We hope that our rating will help you to get a business card on favorable terms.
Guide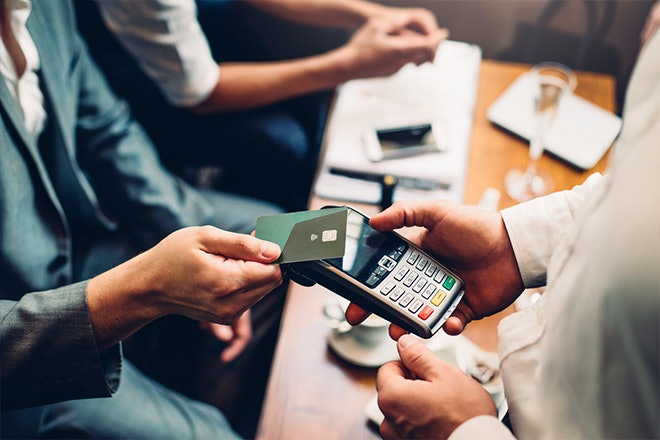 There are a lot of propositions on the banking market in Canada (0 interest credit cards, rewards and travel, secured, VIP, no fee) and each card has many parameters and additional bonuses to be considered before applying for. About these and many other features of the comparison and choosing of a fair business credit card, which will fits your business best - we discuss in this article.
Banking reviews to your e-mail!