Heritage Savings & Credit Union
Find contact information of Heritage Savings & Credit Union: official web-site, address, phone numbers, products, reviews about bank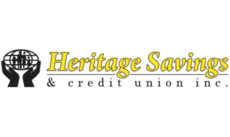 Bank group:
Head office's address:
318 Merritt Ave Chatham Ontario N7M 3G1
Contact center:
519-351-0600
Web-site:
www.heritagecreditunion.ca
Heritage Savings & Credit Union network:
More about bank
Heritage Savings & Credit Union Inc. is a full service, member-owned financial institution, located in Chatham, Ontario. We are an open Community Bond credit union, including anyone living and working in the Municipality of Chatham-Kent. In February 2004, we reopened our newly renovated branch at 318 Merritt Ave in Chatham, to share our exceptional services with everyone in Chatham-Kent. Heritage Savings & Credit Union Inc. is a financial institution which is owned, directed and controlled by its member-owners. The Board of Directors of Heritage Savings & Credit Union Inc. are accountable for directing the affairs of the credit union in the best interest of the membership, following governing legislation by-laws and policy, in order to achieve the goals and objectives of the credit union. Each year at the Annual General Meeting, the member-owners elect from amongst themselves a Board of Directors to represent them and provide governance for the credit union throughout the year. Heritage Saving's Board is made up of nine (9) directors who are elected for a 3-year term, with 3 directors being eligible for re-election each year. Once elected by the member-owners, the Board of Directors is responsible for the overall governance of the credit union. The General Manager is hired by the Board to oversee the day to day operations of the credit union. Board and Management are responsible for establishing the operational standards, strategic plans and objectives to ensure the credit union remains economically viable and an attractive financial solution for member-owners. At Heritage Savings, the Board appoints directors and staff to sub-committees which have separate areas of responsibilities, part of which is to make regular reports and recommendations to the Board. Anyone looking for further information on becoming a Director may email Kevin Doyle or call Kevin at (519) 351-0600.
Give feedback