Peterborough Community Savings
Find contact information of Peterborough Community Savings: official web-site, address, phone numbers, products, reviews about bank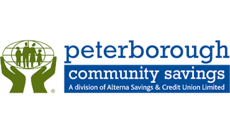 Bank group:
Head office's address:
167 Brock St PO Box 1600 Peterborough, ON K9H 2P6
Peterborough Community Savings network:
More about bank
In 1939, when we opened our doors, many people could not get a personal loan at a traditional bank. There were no credit cards then, and banks were primarily interested in making big business loans. A new form of financial institution was becoming more and more popular in Europe, Canada and the U.S. People began to band together to pool their resources in areas like farming, energy, and insurance. They elected a board of directors to help organize and manage the day to day work of these groups known as "cooperatives." People soon realized that they could do the same thing with their money. They pooled their savings and set up financial cooperatives known as "credit unions." Every person who joined the credit union was required to buy shares so they became owners or "members." Members would deposit their money and could also apply to borrow money at low interest rates. Each year all of the members would meet for a general meeting to make sure their money was being managed well and to elect a volunteer Board of Directors to oversee the people hired to run their credit union. Today, Peterborough Community Savings is still going strong as a division of Alterna Savings & Credit Union Ltd. You can be a member, and start taking advantage of all of the financial services you can get at a bank, with the focus on you and your needs. We answer to our members, and are not obligated to private stockholders. Our friendly, caring employees work on behalf of every member, and we are all dedicated to helping each member achieve financial success. Fifteen dollars buys you shares and makes you a member. There is no better deal anywhere. Check out our products and services page to learn more. Come in and join the money co-op. Your deposits are protected through the Deposit Insurance Corporation of Ontario for up to $100,000.00.
Give feedback