City Savings & Credit Union
Find contact information of City Savings & Credit Union: official web-site, address, phone numbers, products, reviews about bank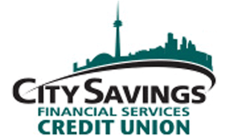 Head office's address:
6002 Yonge Street Toronto, Ontario M2M 3V9
Phone:
416-225-7716
Fax:
416-225-7772
Email:
info@citysavingscu.com
Web-site:
www.citysavingscu.com
City Savings & Credit Union network:
City Savings & Credit Union in social networks:
More about bank
Were the first to offer loans to women in their own names, and loans based on borrower character, daily interest savings, full-service ATMs, payroll deduction service for deposits and loan payments, open mortgages, home equity lines of credit, debit card service, registered education plans, and cheque imaging services? Ranked first in 2012 (for the eighth consecutive year) in overall Customer Service Excellence among all financial institutions and have surpassed all Canadian banks in Ipsos' annual Best Banking Awards? Our own credit union was incorporated in December 1950 as the North York Municipal Employees' Credit Union. At that time, the name reflected the group and the bond that we served. Membership at the time was limited to municipal staff only, like the North York Fire Fighters and Hydro employees.
Give feedback
Banking reviews to your e-mail!