DUCA Financial Services Credit Union
Find contact information of DUCA Financial Services Credit Union: official web-site, address, phone numbers, products, reviews about bank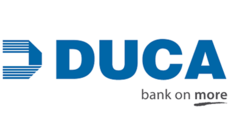 Head office's address:
5290 Yonge Street, Toronto, ON M2N 5P9
Contact center:
1-866-900-3822
Phone:
416-223-8502
Fax:
416-221-2293
Email:
duca.info@duca.com
Web-site:
www.duca.com
DUCA Financial Services Credit Union network:
DUCA Financial Services Credit Union in social networks:
More about bank
We do this by offering the best banking products and services in our branches, online and from mobile devices. We're driven by a cooperative philosophy that puts you -- a Member and Owner -- at the centre of every decision we make, giving you a voice in how we're run and rewarding you for your loyalty by sharing our profits.
Give feedback
Banking reviews to your e-mail!