Golden Horseshoe Credit Union
Find contact information of Golden Horseshoe Credit Union: official web-site, address, phone numbers, products, reviews about bank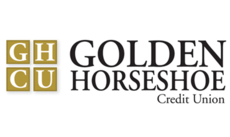 Bank group:
Head office's address:
1194 Barton Street E Hamilton, ON L8H 2V7
Contact center:
905-549-6506
Golden Horseshoe Credit Union network:
More about bank
Sure, we're proud of the fact that our 7,500 members have entrusted us with their money and that we are community based right here in Hamilton. But impressive numbers are never our sole focus. Golden Horseshoe is about helping each of our members get to a good place with their finances, while improving the place we call home. We are committed to the Co-operative Principles of the International Co-operative Alliance. Golden Horseshoe Credit Union has over 50 years of caring member service. Our roots are in the steel industry – helping ArcelorMittal employees and their families reach their financial goals. We know that there is strength in membership. This is demonstrated every day through our Mission Statement: MISSION Build enduring relationships with the members and ensure that we provide competitive high-quality financial products and services that meet members' financial needs, and help all stakeholders achieve financial wellness at every stage of their life. VISION Golden Horseshoe Credit Union is a special organization where people belong and achieve financial wellness and peace of mind.
Give feedback