L.I.U.N.A. Local 183 Credit Union
Find contact information of L.I.U.N.A. Local 183 Credit Union: official web-site, address, phone numbers, products, reviews about bank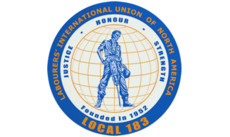 Bank group:
Head office's address:
1263 Wilson Ave., Suite 108 North York, Ontario M3M 3G2
Contact center:
416-242-6643
Web-site:
www.local183cu.ca
L.I.U.N.A. Local 183 Credit Union network:
More about bank
L.I.U.N.A. Local 183 Credit Union Limited, incorporated on February 21, 1978, is a cooperative, owned and operated by its members. This is what distinguishes the Credit Union from other financial institutions. Members put their money in a variety of savings accounts, and that money, in turn, is lent to members. After operating expenses and reserve requirements are met, loan income is returned to all members in the form of dividends and comprehensive financial services. The credit union is a member in good standing with Central 1. L.I.U.N.A. Local 183 Credit Union is governed by a Board of Directors that establishes and reviews policy. The Directors are Credit Union members who are elected by the Membership and serve for a period of 3 years. Every member has one vote at the annual meeting, regardless of how much he or she had on deposit. At the Credit Union, there is no select group of shareholders that profits more than anyone else. All Members profit -- individually and collectively. Member participation in the Credit Union helps promote the sense of community upon which L.I.U.N.A. Local 183 Credit Union was founded. Members can make a difference because they have a voice, they're not just a customer with an account number, but a voice to be heard. Staying in touch with members is the key. Members provide feedback to Credit Union management about requests for new products or services. Credit Union deposits are insured by the Deposit insurance Corporation of Ontario (DICO). The Canadian Deposit Insurance Corporation (CDIC) insures banks. The coverage is very similar with the exception of Registered deposits with which DICO can provide greater coverage. DICO insures all deposits in Canadian currency, payable in Canada. This comprises savings and chequing accounts, term deposits and guaranteed investment certificates, as well as investments made under Registered Retirement Savings Plans (RRSP) and Registered Retirement Income Funds (RRIF).
Give feedback