Ladysmith & District Credit Union
Find contact information of Ladysmith & District Credit Union: official web-site, address, phone numbers, products, reviews about bank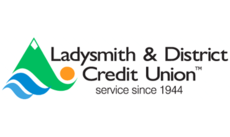 Bank group:
Head office's address:
330 First Ave PO Box 430 Ladysmith, BC V9G 1A3
Contact center:
1-888-899-2247
Ladysmith & District Credit Union network:
More about bank
Ladysmith & District Credit Union is an active participant in the Ladysmith Community. We are committed to supporting the economic and social development of Ladysmith through sponsorships, scholarships, community programs and employee volunteerism. Ladysmith & District Credit Union provided five bursaries to students who graduated from Ladysmith Secondary School this past June. These bursaries totaled $13,000 including the $5,000 Jack McDonald Memorial Bursary. The other bursaries include two $3,000 bursaries, one each for academic post secondary pursuits and one for vocational post secondary education. The remaining two bursaries are $1,000 each and again are separated into academic and vocational pursuits. We believe in promoting and helping our youth realize their educational goals. Ladysmith & District Credit Union also sponsored the Kids 'Count Fun Zone at Ladysmith Days this past August. We are the main sponsor of Light-Up Night by sponsoring the spectacular fireworks show.
Give feedback