Ontario Educational Credit Union
Find contact information of Ontario Educational Credit Union: official web-site, address, phone numbers, products, reviews about bank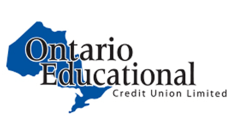 Bank group:
Head office's address:
Suite 1, 6435 Edwards Blvd. Mississauga, Ontario Canada
Bank Details:
Ontario Educational Credit Union network:
More about bank
In 1962 a group of teachers in the Toronto Township School Board formed a Credit Union for teachers in that jurisdiction. At about the same time teachers in the Central Peel Secondary School formed their own Credit Union. In 1970 these two credit unions merged to become the Peel Board of Education Credit Union. Over the next few years the Credit Union grew as rapidly as the municipalities served by the school districts. It expanded to include employees of Sheridan College, the Dufferin Peel Roman Catholic School Board and the Peel District School Board. To reflect the expanding bond of its membership the Credit Union changed its name to the Peel Sheridan Dufferin Educational Credit Union. In 1992 we were instrumental in organizing the teacher federations of Peel in constructing the Educators' Centre that would be home to the Credit Union and the federations. The Peel Educators' Centre opened in the fall of 1993 and we remain the major partner of the joint venture founded to hold and manage the center. In 1997, as a result of our efforts to protect the deposits of the members of the OPSTF Credit Union, our bond was expanded to include all educational employees in Ontario not currently served by a closed bond educational credit union. On December 14,1998 our name was changed to the Ontario Educational Credit Union Limited to reflect this expanded bond. Throughout our existence we have worked, solely, for our membership and closely with their federations/unions. We have and continue to develop products and services to benefit the uniqueness of our membership. We have established policies that support our member/owners should they unfortunately become involved in a job action that results in an interruption of income. We positively supported our members in 1979, 1981, 1997 and 1998 when they realized an interruption in their income. We will be there in the future should the unfortunate need arise again. Year 2000 marked significant growth for us. Simcoe County Educational Credit Union located in Barrie voted to join Ontario Educational. The merger was completed in May of 2000 improving the services offered to members throughout Simcoe Muskoka.
Give feedback