Oshawa Community Credit Union
Find contact information of Oshawa Community Credit Union: official web-site, address, phone numbers, products, reviews about bank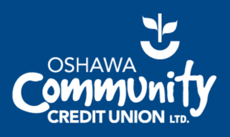 Bank group:
Head office's address:
214 King Street East, Oshawa, Ontario L1H 1C7
Contact center:
1-855-576-4200
Email:
memberservices@oshawacu.com
Web-site:
www.oshawacu.com
Oshawa Community Credit Union network:
More about bank
OCCU has been serving people in the Durham Region and surrounding areas for over 75 years. Our original charter for business is dated 1939. Our Credit Union has its roots firmly planted in Oshawa and the surrounding communities. Since our inception we have grown from a small credit union to now having assets in excess of $95 million. The membership has grown by merging with local industrial credit unions, servicing the employees at the local hospitals, employees of the Region of Durham, employees at the local school boards and employees at the City of Oshawa. As a member/owner you will experience banking a whole new way! We pride ourselves on knowing your name and offer a wide range of financial services. OCCU is a co-operative bank and everyone in Ontario is welcome to be a member.
Give feedback