Osoyoos Credit Union
Find contact information of Osoyoos Credit Union: official web-site, address, phone numbers, products, reviews about bank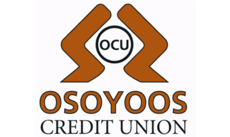 Bank group:
Head office's address:
Osoyoos Credit Union 8312 Main Street P.O. Box 360 Osoyoos, BC V0H 1V0
Contact center:
1-800-882-1966
Web-site:
www.osoyooscreditunion.com
Osoyoos Credit Union network:
More about bank
The Osoyoos Credit Union began January 23, 1946 from cautiously optimistic beginnings. The first annual meeting in February 1946 consisted of eighteen people; to date it has remained an independent cooperative financial institution with approximately 5,000 members, actively rooted in the Osoyoos area. Throughout its history, the organization has contributed to the development of its members, and the community of Osoyoos as a whole. Credit Union Day is observed every October with a hot dog BBQ. A credit union is a cooperative organization which provides services to its members. In many ways,credit unions are indistinguishable from banks – they offer chequing accounts, term deposits, mutual funds, personal, mortgage and business loans, and many other services offered by banks; however, their whole orientation is different. Unique among financial organizations, the credit union is owned and controlled by the very people who use its services…its members. Our customers are members; they are shareholders and each has an equal vote on rules and in the selection of directors from within their own ranks. With an emphasis on the local economy exemplified in our motto, "Together we're better" the Osoyoos Credit Union will continue serving its members' needs as one of the few independent credit unions in British Columbia. This guide is designed to provide an overview of our products and services and to help you to understand more about Osoyoos Credit Union. For more information on specific accounts, interest rates and service charges please view our website.
Give feedback