Quinte First Credit Union
Find contact information of Quinte First Credit Union: official web-site, address, phone numbers, products, reviews about bank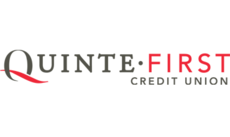 Bank group:
Head office's address:
Quinte First Credit Union 293 Sidney Street Belleville, ONT. K8P 3Z4
Contact center:
1-800-567-8111
Web-site:
www.quintefirst.ca/AboutUs
Quinte First Credit Union network:
More about bank
At Quinte First Credit Union we strive to be your first choice for financial services. We are the only truly local credit union in the Quinte area and we are proud to be a part of our community. We truly believe "local is better". Quinte First is a co-operative financial institution, owned and controlled by the members who use our services. We support the passion and pride our members have for their community by working together to grow the local economy. It is our sincere goal to assist each member in achieving personal financial success. Our Vision To achieve "advisor status" with our members. Our Mission Working together, we create financial well-being for our members, their families and our community. Our Values We believe in co-operative values and conduct our business with these values in mind. We care about our members and our staff, and our community. We respect the people we work with and listen to their individual goals and needs.
Give feedback