Your Credit Union
Find contact information of Your Credit Union: official web-site, address, phone numbers, products, reviews about bank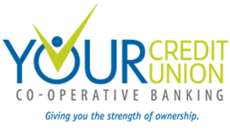 Bank group:
Head office's address:
14 Chamberlain Ave. Ottawa ON Canada K1S 1V9
Contact center:
1-800-567-8111
Bank Details:
Web-site:
www.yourcu.com/Personal
Your Credit Union network:
More about bank
A co-operative is an association of people who voluntarily unite to meet their common economic, social or cultural needs. Co-operatives, or co-ops, exist in a wide range of categories including agriculture, insurance and even sporting goods (Mountain Equipment Co-op). The first cooperative financial institution in Canada was started by Alphonse Desjardins in Quebec in 1900. Co-operative banks, also called credit unions or caisse populairs (peoples banks), began because the large traditional banks would not service people in remote rural areas. The people of these communities pooled their money and created their own banks to assist each other with loans and savings. Today more than one third of Canadians belong to at least one credit union. CREDIT UNIONS BRING FAIRNESS TO BANKING As a co-operative financial institution, Your Credit Union is owned and democratically directed by our members. Unlike traditional banks we are not driven to make ever-increasing profits. We exist solely to meet the financial needs of our member-owners. It is, quite simply, a fairer method of banking that ensures that the needs of our member-owners are always placed above profit. A HISTORY OF HELPING Your Credit Union has been helping our member-owners meet their financial objectives since 1950. We began as a financial co-operative for the teachers of Ottawa-Carleton and evolved to encompasses members from the Ottawa Citizen, the City of Ottawa and OC Transpo among others. In 2009 Your Credit Union became an "open bond" institution, which meant membership was open to everyone. Since that time we have welcomed a host of new member-owners who respect and appreciate the equity and intelligence of co-operative banking. A HISTORY OF RESPONSIBILITY Your Credit Union is proud to choose 100% green electricity and 100% green natural gas with Bullfrog Power for all of its branches in the Ottawa and Cornwall area.This means that Bullfrog's generators put 100% green electricity and 100% green natural gas onto the grid and pipeline to match the amount of conventional power and natural gas our organization uses. Across Canada, Bullfrog Power's green electricity comes from a blend of wind and low-impact hydro power sourced from new Canadian renewable energy facilities. Bullfrog's green natural gas is sourced from a unique methane-capture project situated on one of Canada's landfill sites. By choosing green energy, we are reducing our organization's environmental impact, supporting the development of new community-based renewable energy projects in our region and across Canada, and helping lead the way to a renewably powered future.
Give feedback