Mega International Commercial Bank
Find contact information of Mega International Commercial Bank: official web-site, address, phone numbers, products, reviews about bank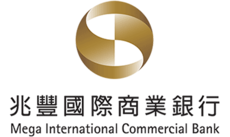 Bank group:
Head office's address:
4950 Yonge Street, Suite 1002, Toronto
Web-site:
www.megabank.com.tw/en/index.asp
More about bank
Mega International Commercial Bank Co., Ltd. (Mega ICBC) has come into being as a result of the merger of The International Commercial Bank of China and Chiao Tung Bank, effective on August 21, 2006. Both banks have been proud of their longtime histories of outstanding track records in our country.With a view to enlarging the business scale and increasing the market share, ICBC and CTB formally merged into one bank under the name of Mega International Commercial Bank Co., Ltd. on August 21, 2006. By the end of 2015, the Bank has 107 branches at home, and 22 branches, 5 sub-branch, and 4 representative offices (including marketing office) abroad. Together with the network are wholly-owned bank subsidiaries in Thailand and Canada, along with their branches, bringing the number of overseas outposts to 39 in total. It has manpower 5,478 and an aggregate paid-in capital of NT$85.362 billion.
Give feedback