Coastal Financial Credit Union
Find contact information of Coastal Financial Credit Union: official web-site, address, phone numbers, products, reviews about bank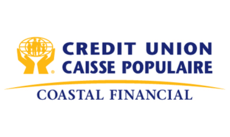 Bank group:
Head office's address:
371 Main Street, PO Box 490. Yarmouth, NS B5A 4B4
Contact center:
1-888-273-3488
Web-site:
www.coastalfinancial.ca
Coastal Financial Credit Union network:
More about bank
As a financial co-operative, Coastal Financial Credit Union is committed to supporting the economic and social development of our community. As the only locally owned financial institution, we work to improve the communities we serve.Our rich tradition of community involvement, includes loans to members and small businesses, investment in community projects such as the local Farmers Markets, the YMCA, the Yarmouth Food Bank, sponsorship of many community activities and events such as: Major Event Sponsor of Les Jeux de l'Acadie, Big Brothers Big Sisters, Yarmouth Hospital Foundation, festivals such as the Yarmouth Seafest, Argyle Abuptic Festival, Wedgeport Tuna Tournament, and various other local community festivals. In addition, CFCU sponsors many events that enhance our unique culture such as the Par-en-Bas Theatre, as well as various local youth sporting or educational groups and student bursaries, just to name a few.
Give feedback